Kambaba Jasper is known as "The Supreme Nurturer" and is found in the West-Central Bongolava region of Madagascar.
It's a sedimentary fossil of prehistoric algae from billions of years ago.
Its green color with black swirls arises from the fossilized algae colonies.
Benefits & Uses of Kambaba Jasper
Elicits feelings of peace & tranquility.
It promotes fertility and new beginnings.
Calming of the mind and less overthinking.
Reduced levels of stress and anxiety.
Supports journies of self-love, wholeness, and unity.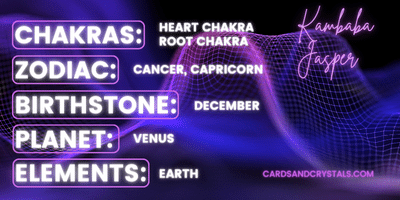 Interesting Facts
One of the remarkable fossils within Kambaba Jasper is Cyanobacteria.
This is believed to have helped create the first oxygen atmosphere here on earth many moons ago.