Cleansing crystals is important because it helps to recharge the healing properties of your crystals so they can best accompany you on your spiritual journey.
You're about to learn the best ways to cleanse your crystals then have the most common questions about cleansing answered afterward.
Let's get started.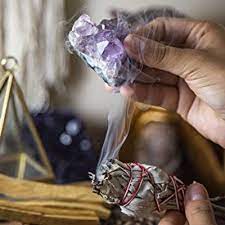 The 7 Best Ways to Cleanse Crystals
Crystals should be cleansed regularly and there are a number of ways to do it.
Try several different ways of clearing the negative energy from crystals to see which works best for you.
1. Selenite Slab
This is a very common way to get started and super simple.
Slabs of Selenite aren't all that expensive which makes them a sensible choice.
Simply place your crystals on the slab overnight.
2. Quartz Geode
Another simple yet very effective way to cleanse your crystals is with a quartz geode.
Simply place your crystals within the quartz geode for 12-24 hours.
It's that easy.
3. Moonlight
Leaving crystals in the moonlight is one of the most popular techniques as well.
Many prefer to use the new moon or the full moon as a predetermined time to cleanse crystals.
Choose to place crystals on a windowsill, on your lawn, or outdoors using a crystal pyramid if they are sensitive to dew and water and need added protection.
4. Sage
The burning of a Sage stick or a sage smudge is powerful because it activates your sense of smell which adds a bit of intensity to the ritual cleansing.
You can perform this for 3-5 minutes or whatever time frame your intuition guides you towards.
Sage isn't too expensive and is arguably the most popular way to cleanse crystals.
5. Sound
Brass and crystal singing bowls are a great way to cleanse crystals.
Activate the sounds of the bowl and place the crystals within the sound field.
2-3 minutes is plenty but choose what works for you.
6. Salt and Water
These are the least common because there are several crystals that will be damaged from either approach.
I've added this for the sake of completeness but do not recommend using this technique.
If you prefer to use these techniques be advised to avoid them with the crystals listed below.
Amber
Calcite
Kyanite
Malachite
Selenite
7. Palo Santo Incense
Yes, you can use incense to cleanse your crystals as well.
Some people consider sage to be incense yet many feel its lack of herbs and oil don't place it into this category.
Palo Santo is one way many people cleanse their crystals and their space.
How Often Should You Cleanse Your Crystals?
Crystals should be cleansed based on their frequency of use, when exposed to negative energy, and when first purchased.
Crystals such as Rose Quartz and Amethyst tend to be used more often, therefore a more frequent cleanse may be recommended.
The two times you'll certainly need to cleanse your crystals are when you buy them and when you have used them for healing.
You always want to cleanse new crystals when they arrive as they may have acquired some negative energy along their travels to you.
Crystals can lose their charge or take on less desirable energy and therefore require a cleansing.
If you've handled a crystal, then you've had an energy exchange.
An emotionally charged environment can also have an impact on the energy of a crystal.
Even a black tourmaline that is placed in your home for protection can begin to take on negative energy even though it has not been handled.
You can choose to cleanse your crystals based on the new moon and full moon cycles as well.
The 3 Crystals That Don't Need Cleansing
The three crystals that do not need cleansing are;
Azeztulite
Citrine
Kyanite.
These crystals are considered to be self-cleansing.
Different Types of Crystals May Need to Be Cleansed More Often
Dark or black crystals can absorb energy more quickly and intensely.
It's recommended to cleanse black crystals such as black tourmaline more often.
This is because black crystals absorb energy whereas a clear crystal allows energy to pass through it.
If I had a very stressful day in which my crystal helped bring me back to center, I feel the amount of energy I transferred to my crystal should guide my timing on when to cleanse it.
There is never a steadfast rule for cleansing crystals, use your intuition.
3 Crystals Used to Cleanse Other Crystals
One of the most popular crystals for cleansing other crystals is Selenite.
The most common form used for cleansing crystals is the Selenite slab.
Clear Quartz is also a crystal that can be used to cleanse others.
Carnelian is used by many crystal owners for cleansing as well.
Steps to Take After Cleansing Crystals
After cleansing your crystals there are a few things to do next.
1. Charge your crystals
This is a great next step to prepare your crystals for healing.
Always be conscious of the energy you possess as well as your crystals.
2. Activate your crystals
Many people say this is the same as charging your crystals but some disagree.
Those who disagree state performing a ritual or ceremony where they activate their crystals by setting an intention for them.
3. Storing your crystals
This question is asked a lot.
You can store crystals in a velvet pouch or simply leave them in a visible space to help remind you to tap into their healing properties.
Next Steps
Now that you have learned how to cleanse your crystals, let's share some additional information you may find valuable.
Crystals for anxiety – Click the link to read our best article on using crystals to end anxiety.
Crystals for beginners – This is one of our most popular and comprehensive articles if you're a beginner looking to get into crystals.
How to activate your crystals – After cleansing your crystals charging them is a powerful thing to do.
How to charge your crystals – This article is a great next read.
Jump on our email list to get exclusive offers on crystal education, crystal videos, and some of the most unique crystals we can offer you.